Industrial estates are generally pretty grim places, and the one on the south-west edge of Glasgow where Jaw Brew is based is no exception. But it's a sunny day, the train station is not far and there is an attractive view of the Kilpatrick hills in the distance, beyond the airport. That's more than most such estates have going for them.
Jaw is just off the main drag and round a corner, where owner and brewer Mark Hazell is in the middle of a boil on his tiny 5-barrel kit. In the last few months Mark has done a good job of getting his beer into local outlets. It's become such a common sight that I often forget how new the brewery still is – he's been brewing commercially only since May.
Mark is particularly proud that his own local pub sells Jaw beer, and has landed another coup by getting it into the Laurieston Bar in Glasgow, which usually sells Fyne Ales exclusively. Pubs are generally quite happy to take his beer, says Mark – it's the big pub companies that are the problem. They have a list of suppliers they can be bothered to deal with and the tied pubs can only take what they are given. Some of the smaller pubcos are no better either.
Mark pretending to take a sample from the fermenter for the photo
Jaw Drop and Jaw Drift are the two main beers, one selling more in cask, the other in bottle. Unusually (I think), the two main beers are both pale. Drop can taste a little burnt to me with a rather harsh bitterness. I am keener on Drift, which is sweet and full-bodied but bitter at the same time, with a gently floral hop flavour.
Today though Mark is brewing a new beer for the first time in the brewery – a mild provisionally entitled Fathom. The grist contains Maris Otter, crystal, chocolate and black malt. We taste a sample of the trial brew: it's rich, oily and liquoricey with a genuinely surprising thick, viscous mouthfeel that suggests a beer of 8% or more, not the sub-4% ale it actually is. Perhaps it's a bit too full for the quaffing beer it's meant to be.
Mark has little time for new-fangled beers with weird ingredients. "Simple" is a word he keeps using. Plain beers for people to drink in quantity. So far, there seem to be plenty of customers who agree. Between my visit and finishing this post, Fathom has been released to pubs and won Jaw's first SIBA award – pretty good going for a beer that's been brewed once.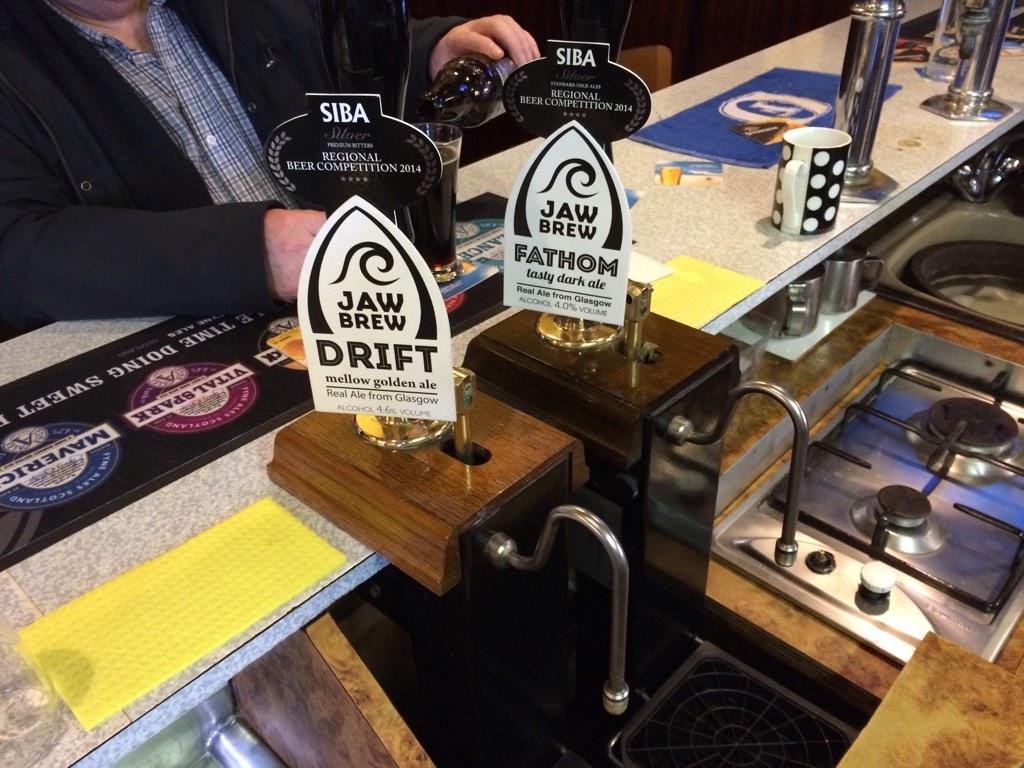 Photo courtesy of Laurieston Bar (hi Joe)