Hackney's new microbreweries
It's lovely the way there are so many brewery arches in London now. I don't know how the railway managed to operate before they were there; the trains must just have been down on the street getting in everyone's way, I imagine.
I popped by three breweries in Hackney, which are all within about five minutes' walk of each other and have all started brewing within the last six months. Which is pretty amazing when you think about it.
Pressure Drop is in a lane just by Hackney Central station, in arch no. 19. We look into no. 9 by mistake, where there is a reception desk, a young lady behind it, and — a load of dogs running around. We soon realise this is not a brewery, though I am reminded of this scene from The Simpsons: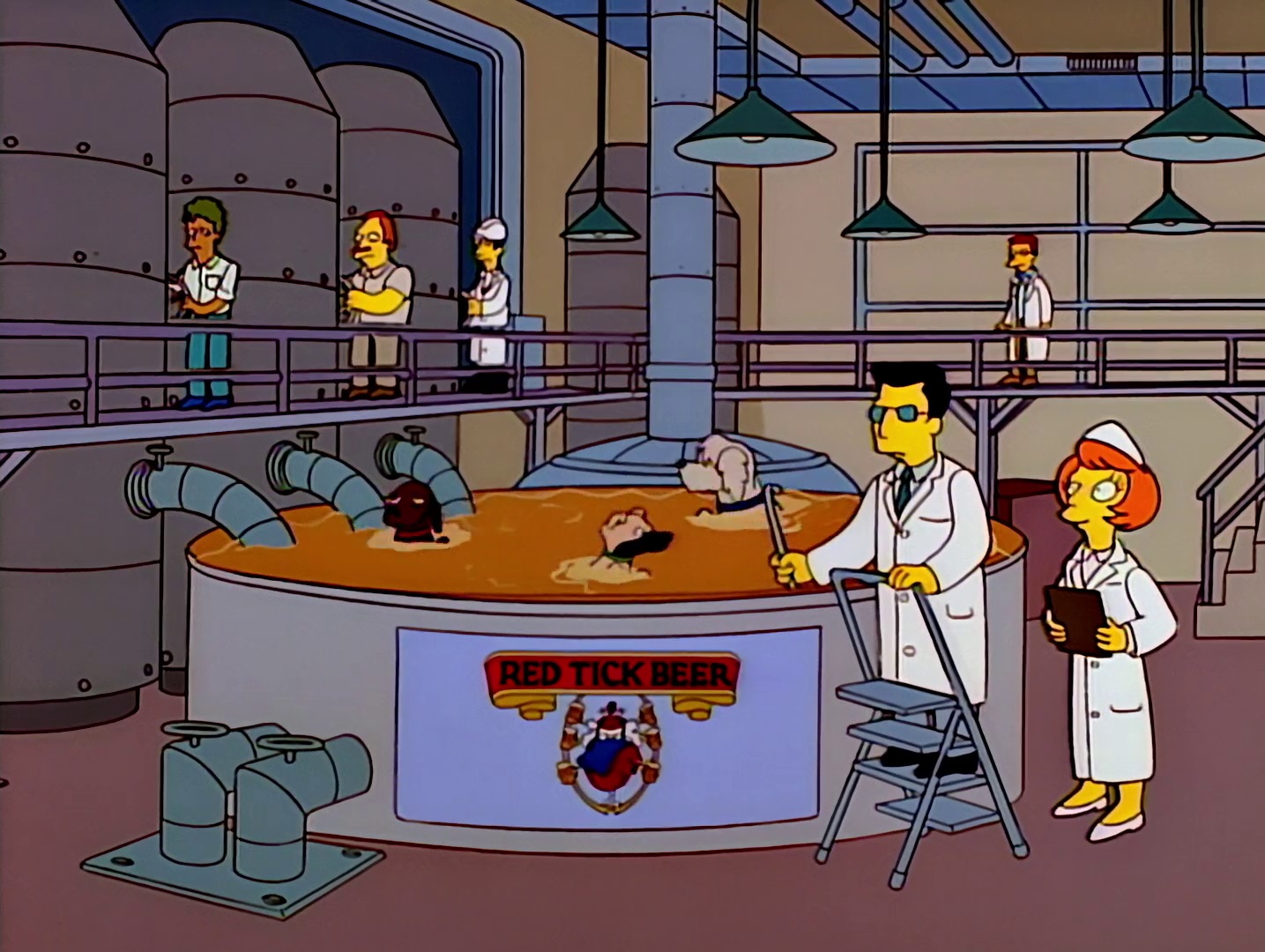 Having found the correct arch, Ben and Dan show us around. It's a large space with the brewing kit along one wall. Like any sensible brewery, they've left space for more fermenters when they can afford them.
Pressure Drop, no dogs added to the beer
All the publicans know each other and drink in each others' pubs, says Ben, so it's easy for word to get around about a new brewery. Not only have they not needed to advertise, they have not needed to make a sales call yet; rather, pubs and other outlets approach them. Then again, when you're brewing such tiny amounts you only need a few outlets to sell everything you can make.
What's the signature taste of Pressure Drop? The chaps are honest enough to say they don't really know yet, but they love the flexibility of brewing on such a small kit. It gives them the chance to make unusual beers, not just their dark Weizen, the only such brew in London as far as I know, but also for example with bay leaves or foraged herbs.
But there's one less exotic beer that every new London brewery seems to brew, and rightly so. I love the way Porter has returned from the dead to be celebrated in its home city. Pressure Drop Street Porter, Gyle 2, bottled only a month previously, still smells and tastes fresh with a big roast-coffee nose. Light and dry with slightly minty hops. Highly carbonated, the bubbles tingle.
Five Points
Only a short walk away is Five Points, another very new brewery. It differs from other East London micros, firstly by not being in a railway arch and secondly by having decent money behind it. While it's far from being slick, it's less ramshackle than the smaller operations.
One thing that strikes me about the new London micros is that they all seem to have terrific graphic design. Five Points is no exception, with their stark black and white typographic labels. The heavy nineteenth-century grotesque lettering in the same style, painted on their red-brick building, just screams London to me.
Doreen shows us around. The long hall contains a big shiny mash tun and kettle, both of which look very similar until you see the hop debris on the kettle. Flooring is being laid to make room for more fermenters, which will enable them to brew more often. At the back there's a cold store full of beer and storage space. Office admin is done at a couple of desks opposite the brewing kit.
First worts from Five Points Pale
Head brewer Greg and his intern, Heriot-Watt student Ian, are brewing Five Points Pale today. Greg says his favourite Five Points is their red rye beer Hook Island Red, but Pale Ale is a simpler recipe, hence easier to brew on the morning after a long session at the Great British Beer Festival.
Five Points Pale Ale is in the "London Murky" style pioneered by The Kernel. One bottle is still from the "Test Brew" series, now approaching its best-before date and there's something a bit homebrewish about it. The hop aroma seems to have decayed a bit and what we are left with is a very dry beer, distinguished from others chiefly by a long, intense, slightly chalky bitterness. Might be one which would benefit from a shorter shelf-life. A fresher bottle is still a bit low on aroma but is much better with loads of Citra and lychee flavour backed up by that intense bitterness once more.
Hook Island Red, a much more complex beer with all sorts of mad aromas: spicy root beer and chocolate on the nose together with cola-bottle sweeties and tinned fruit. In the mouth big, fresh American hops and both caramel and malt sweetness, topped off with a bitter, bitter finish. I'm not that keen on red rye beers myself, but this is a good one.
The plan is to head across the road to the Pembury Tavern, but it doesn't open until noon. A pity as I had never been and was looking forward to visiting it.
Relaxing in The Cock Tavern
Never mind, though, it's only a short wait until The Cock Tavern back down the road opens. What a remarkable place. I can't figure out whether it has never been renovated since the 1930s or whether a subsequent refurbishment has been stripped out again. The walls are deep mahogany-coloured wood, not varnished and shiny but matt and lived-in. The hand pumps are of a design that has surely not been manufactured for decades. A glass cabinet is an ironic nod to the clingfilm-wrapped cheese baps of the past, and now contains high-end pork pies and the like.
The Cock is also host to Howling Hops, the smallest of the three breweries we visit; so small, we hadn't even planned to. In the basement of the pub, they brew the beer downstairs, pump it into Grundy tanks and serve it upstairs. I thought Five Points were being ultra-local when they told me about delivering beer by just rolling casks across the street to the Pembury Tavern, but this stuff doesn't even leave the building.
The beer taps are a bit more sparsely populated than normal – the local micros are gearing up for the London Cr*ft Beer Festival at the weekend and their beer is in short supply. So there's no Pressure Drop or Five Points on here as I had hoped. There are a couple of Howling Hops beers on handpump – Pale Ale No.3 and the elderflower-spiked Poachers. Sadly, neither impress greatly. There's nothing specifically wrong with the pale, but it is muddy and confused with no clear lines of flavour. Poachers is better with a bitterness reminiscent of forest-floor vegetation, like lovage or dandelions.
We are about to leave – pub 10/10, beer 5/10, bar staff's beards 9/10 – when I notice that two of the people behind the bar are wearing wellies. That might be the latest fashion trend – you never quite know in East London – but it turns out the guys are indeed the brewers here.
Ed's eyes sparkle with delight that people are interested in his brewery, and we are invited to clamber down the alarmingly steep stairs into the cellar. It's tiny and cramped, with brewing kit along one side and fermenters behind glass along the other, and just about room for one person to stand in between.
One taste of the new double IPA, straight from the tank, and our opinion of Howling Hops is revised upwards. Huge hop flavour prevents the strong beer ever being cloying. Ed has been experimenting with beer styles from other traditions, too: back upstairs we try a pseudo-Belgian dubbel from the keg, which is good if a bit one-dimensional – then again you could say that about a fair number of the Belgian originals. Also kegged, a sour beer in the Berliner Weisse style, tart and refreshing at just 2.0% alcohol. Rather than add a commercial culture to sour the beer, Ed uses the lactic bacteria that naturally occurs on the malt. It's very drinkable and we return to the pub later to have some more.
What's impressive about these three breweries is the way each is creating its own identity. Pressure Drop the little experimental beer kitchen; Five Points, with some proper money behind it, focused on a core range of beers that people will want to buy again and again; Howling Hops, taking influences from the continent and symbiotic with the London pub upstairs.